There are some people out there that still believe that animals are just dumb beasts, but there are so many unlikely animal friendships prove that they are capable of feeling love and compassion just like we are. Remarkable relationships can exist between wildly different animals. Cats found everlasting friendship with all kind of animals like pigs, birds, rabbits, horses and many more. Cats proved so many times that they love all beings. They can be very affectionate with other species. This time a kitten became friend with a baby raccoon!
An animal control officer with the Knoxville Police Department responded to a call that sound like a story of a Disney movie.
Animal Control Officer Nick Powell responded to a call about an animal stuck in a dumpster. The Officer went immediately to help the kitten in need. The moment he looked inside the dumpster he was shocked! The kitten wasn't alone, he was having an unusual companion, a baby raccoon! They were both scared but being together gave them strength.
"When Officer Powell looked inside the dumpster he located two unusual companions – a kitten and a baby raccoon – cuddled in the corner keeping each other warm." Knoxville Police Department wrote on their Facebook page.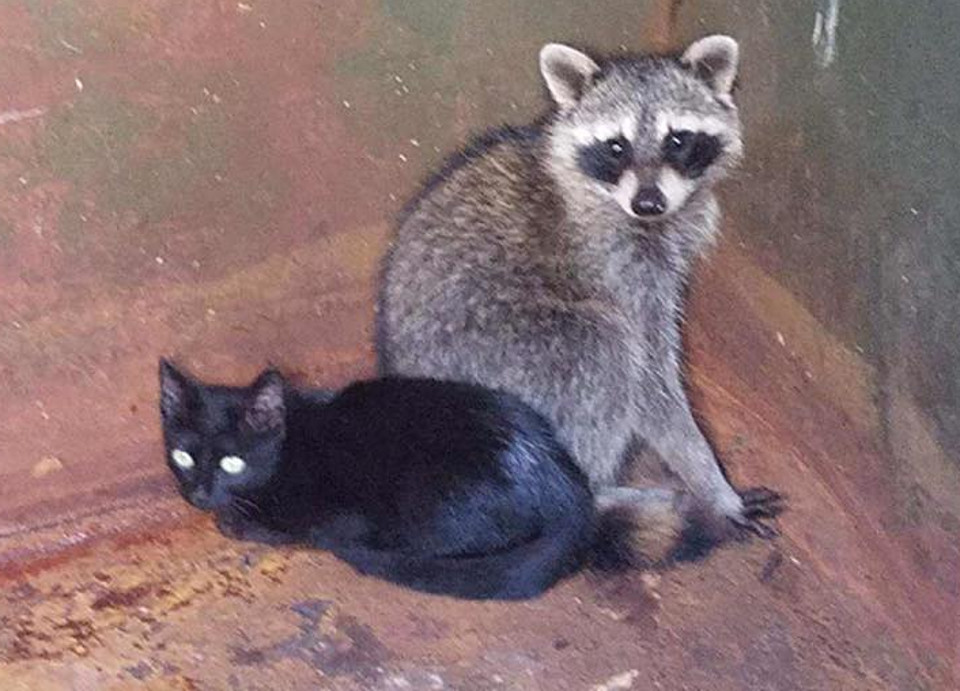 The two animals gave each other comfort and kept each other warm. Is amazing the way they were cuddled each other when they were found.
People expressed their concern that perhaps the kitten and the baby raccoon would be euthanized, but an update from the department indicates a happy ending of the story. The raccoon was relocated and released and the kitten was taken at an Animal Center where he received all the help that he needed.
"The raccoon was relocated and released. The kitten was transported to Young Williams Animal Center." they wrote on Facebook.