RSPCA rescued three small kittens and two older cats who were abandoned in Gloucester Park in UK.
The kittens were found abandoned alongside their mother and an older male kitten. All the five cats had been crammed together in a small cat basket and dumped like rubbish. The person who found them left them on the doorstep of RSPCA Gloucester clinic as it was closed, before ringing the animal welfare charity to say they had found the discarded cats in a park.
"This was such a horrific way to treat these poor cats. I initially picked up the basket believing there was just the mum cat and the three kittens from what I could see. I then discovered there was another cat behind her.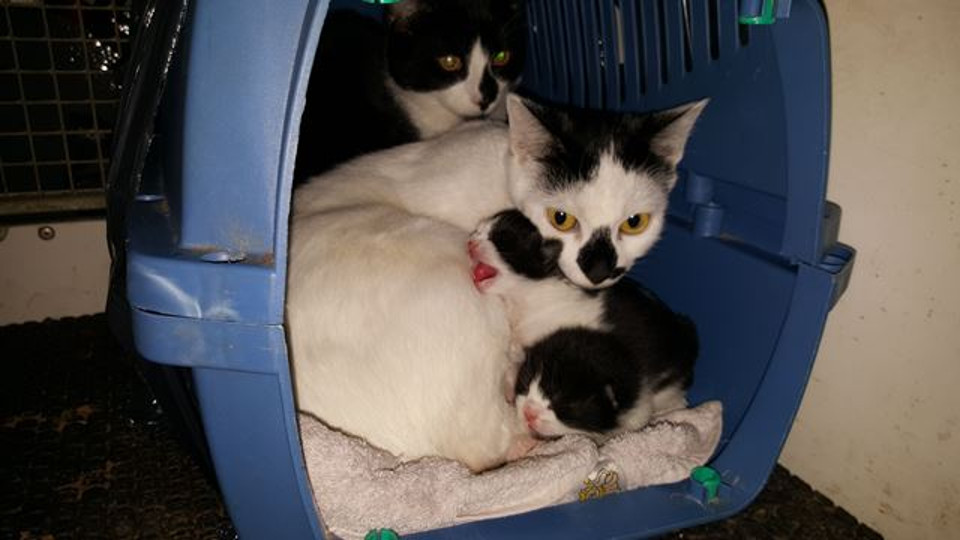 "This basket was far too small for all these cats and they should never have been dumped like rubbish. The other cat is only 5 months old and believed to be the mother cat's son from her previous litter.
"If anyone has any information on who dumped the kittens and their mum, please contact us in complete confidence on 0300 123 8018." said Inspector Suzi Smith.
"There are thousands of unwanted and unloved dogs and cats in RSPCA centres across the country who are patiently waiting for new homes we would encourage pet owners to get their animals neutered to avoid more unwanted litters." said the inspector.
The cats are currently at the RSPCA's Hereford branch where they are recovering from their ordeal.
The five rescued cats are at the moment at the RSPCA's Hereford branch. The cat mom who was named Tinkerbell is about 18 months old while the young kittens, who have been named Wendy, Peter Pan and Toodles, are about seven to 10 days old. Their eyes are just beginning to open. The five months old kitten was named Felix.
For more information about the cats please contact rspca.org.uk.
Source: gloucestershirelive.co.uk.